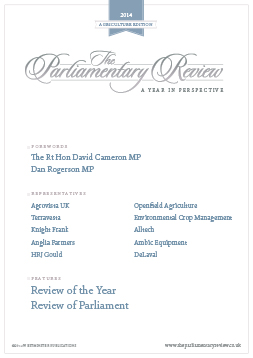 Press release from the Parliamentary Review:
ECM has been selected to represent agriculture alongside David Cameron in the 2014 Parliamentary Review. The publication, which has several versions based on key policy areas, has the involvement of the Prime Minister, leading Cabinet ministers including George Osborne and Matthew Hancock, and other outstanding executives who have been selected to showcase best practice as a learning tool to their peers.
The Agriculture Edition of The Parliamentary Review consists of a political commentary, summarizing the year in agriculture along with a look back at the events in Westminster. The commentary is written by several of the UK's leading journalists – Mark Kinver – the BBC's Environment correspondent and Mark D'Arcy – the BBC's Parliamentary correspondent.