Treble Success: Three Leaders Council Members Clean Up At The Green Apple Awards
Environmental Crop Management has scooped another Green Apple Award together with two other company members of the Leaders Council.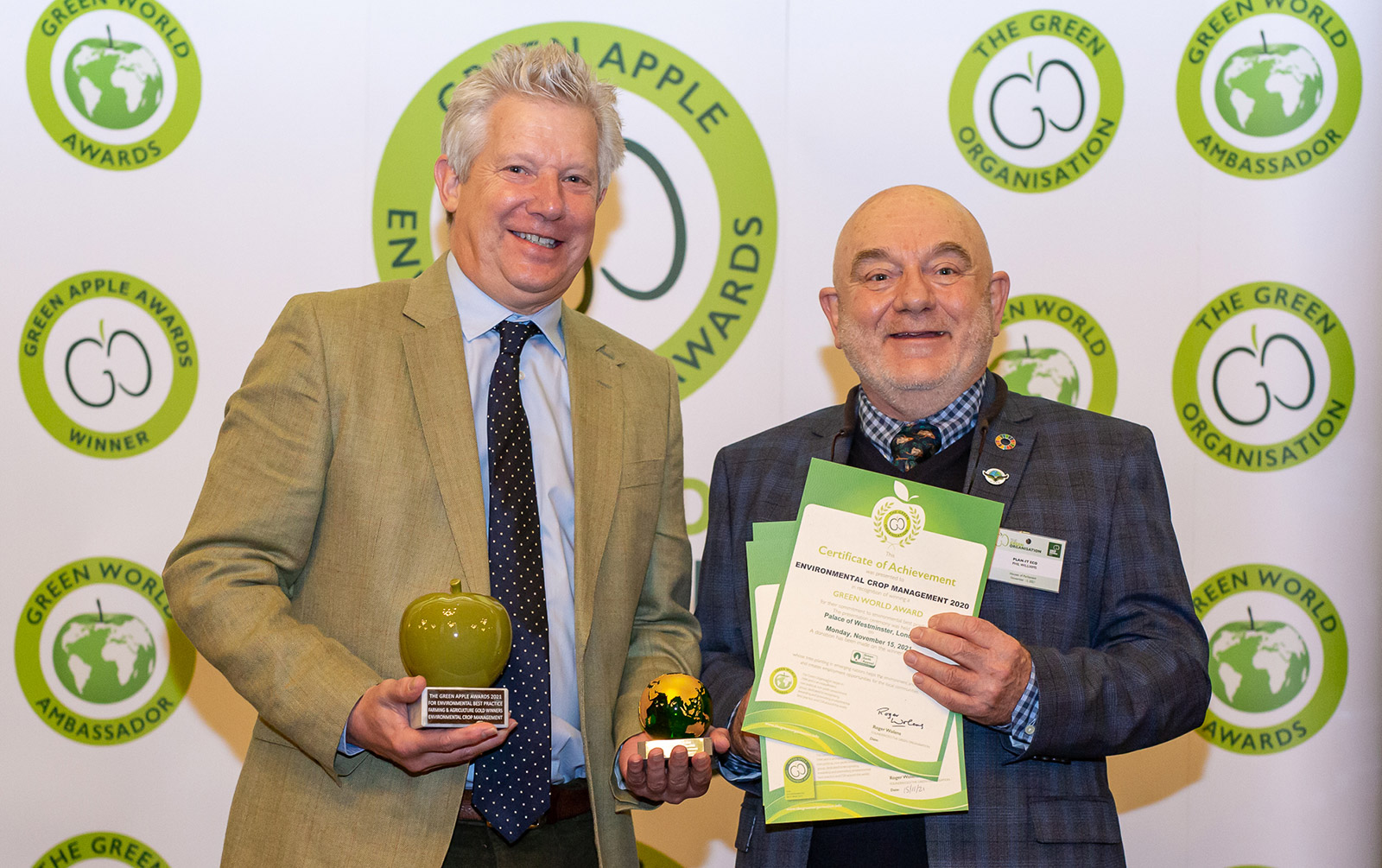 The Green Apple Environment Awards is an annual international campaign to recognise, reward and promote environmental best practice globally. Headed by non-profit venture The Green Organisation since its establishment in 1994, the awards have become established among the most popular and well-known environmental campaigns worldwide.
The awards are fundamental to The Green Organisation's philosophy of helping others benefit the environment around them. Every year, entries for the awards originate from governments, ministries and local authorities across the world, as well as businesses, organisations and communities spanning the public and private sectors.
The 2021 Green Apple Awards were handed out at a special ceremony, held at The Royal Horseguards Hotel in London. The awards showpiece is traditionally held in a different country each year, and every carbon footprint left by the award winners and their guests by attending is offset by the planting of trees in co-operation with the Green Earth Appeal and the United Nations Framework Convention on Climate.
All three of these Leaders Council member companies received awards at the ceremony for their own innovative programmes and ventures that have helped offset their carbon footprint and bring added benefit to the environment. We congratulate them all for their incredible work.
Environmental Crop Management
Environmental Crop Management [ECM], an agronomy services provider renowned as one of the best crop protection companies in the world, was presented with a 2021 Gold Green Apple Award for Farming and a Green World Ambassador Trophy as well as a Corporate Responsibility Award for training students and young farmers.
The company also received its 2020 Green World Silver Award, an accolade that would have been given out at last year's ceremony, which was cancelled due to the pandemic.
ECM has long been a pioneer in its field, working to prove that profitability and environmental responsibility can go together. It acts as a bridge between agriculturalists and conservationists and has worked with farmers to inform them on the benefits of conservation and how it can tie in with profitable food production.
Its latest successes at the Green Apple Awards take the business' tally to 24 Green Apple Awards in total, alongside its nine Green Hero Awards for its part in major schemes including the reintroduction of the Barn Owl, minimising farm waste, reducing the levels of pesticides being used in agriculture, and educating farmers in the latest technologies to help protect the environment.
ECM's research into responsible use of pesticides has been conducted jointly with Manchester Metropolitan University and has resulted in numerous doctorates being awarded.